Learn Industry Demanding
Courses With 15 Years of
Experience Mentors And
State Of Art Study Material
GET TRAINED | GET CERTIFIED | GET EMPLOYEED
Skills Factory Learning in partnership/collaboration/MOUs with apex Governmental educational and regulatory bodies and Government established Universities offers specialized career-oriented courses in Digital/Information Security, Networking, and  Wellness. Courses align with Government-approved curriculum.
Skills Factory's certificate courses in Information Security, Networking, and Wellness will boost your knowledge to explore new opportunities, to create a secure and uninterrupted career growth path. Dig into the topics in step-by-step learning to master the subject with ease.
FutureSkills Prime – nasscom & Meity (Ministry of Electronics and Information Technology, Government of India, nasscom Digital Skilling Initiative) India's technology skilling hub, approved by the Government of India
Sector Skill Council (Ministry of Skill Development and Entrepreneurship initiative).
NEAT 2.0 (National Education Alliance for Technology) AICTE (All India Council for Technical Education) Initiative.
Maharashtra Centre for Entrepreneurship Development (MCED).
Savitribai Phule Pune University SPPU Edutech Foundation.
Kavayitri Bahinabai Chaudhari North Maharashtra University, Jalgaon.
Our courses in Digital Security: Accredited by nasscom, and approved by the Government of India, and are designed to boost your knowledge and your career. Create your unique, secure, and uninterrupted career growth path through a step-by-step learning process leading to mastery.
Skills Factory in the News
Latest Collaborations, News, and Announcements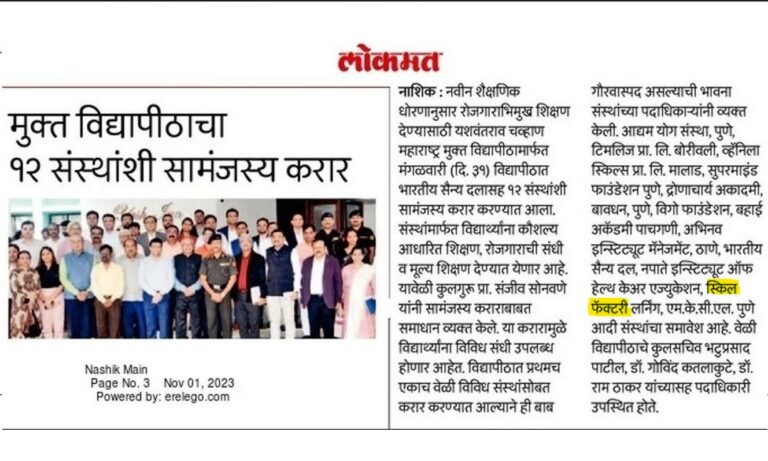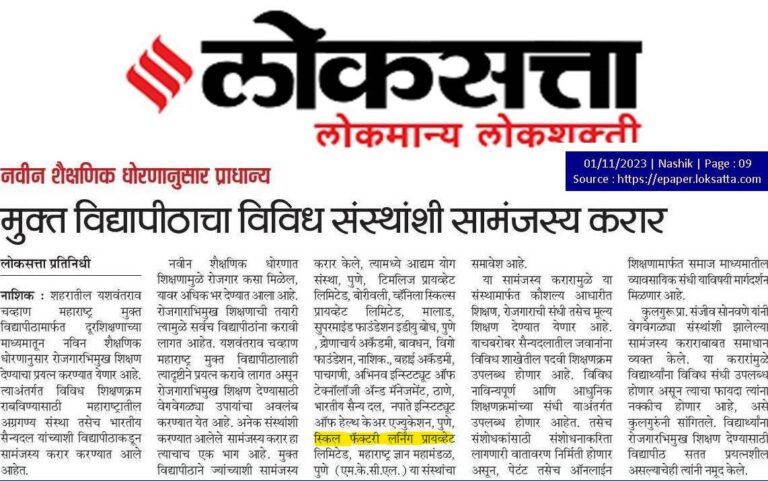 "I Dream of Digital India where Cyber security becomes an integral part of our Nation's Security."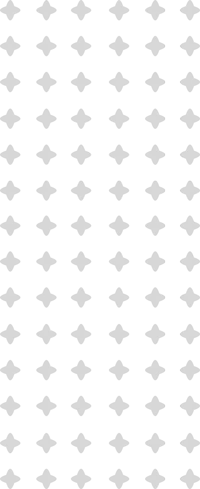 Trusted by Thousand of Students
"Network Security helped me a lot as i had mentioned the name of the course on my resume. the course taught me various new things regarding the security aspect of networking, which in general is not a part of my academic syllabus. my interviewer was impressed with my knowledge,which gave me lot of confidence in myself."
Rangoli Yadav - Zensar Technologies
"As an extra learning curve to your already earned degrees, to help you race in the interview process. this course helps you strengthen your resume. deep knowledge in network security is a must in today's environment."
Nilesh Ashok Kothari - Bitwise
"Network Security is a very advantageous course for students coming from non it background, especially students from other streams of engineering."
Shivangi Singh - Tata Consultancy Services

"Best training institute for cyber security in pune."
" Learning cyber security is not choice, It is necessity."
" Security used to be an inconvenience sometimes, but now it's a necessity all the time."
"Privacy – like eating and breathing – is one of life's basic requirements."